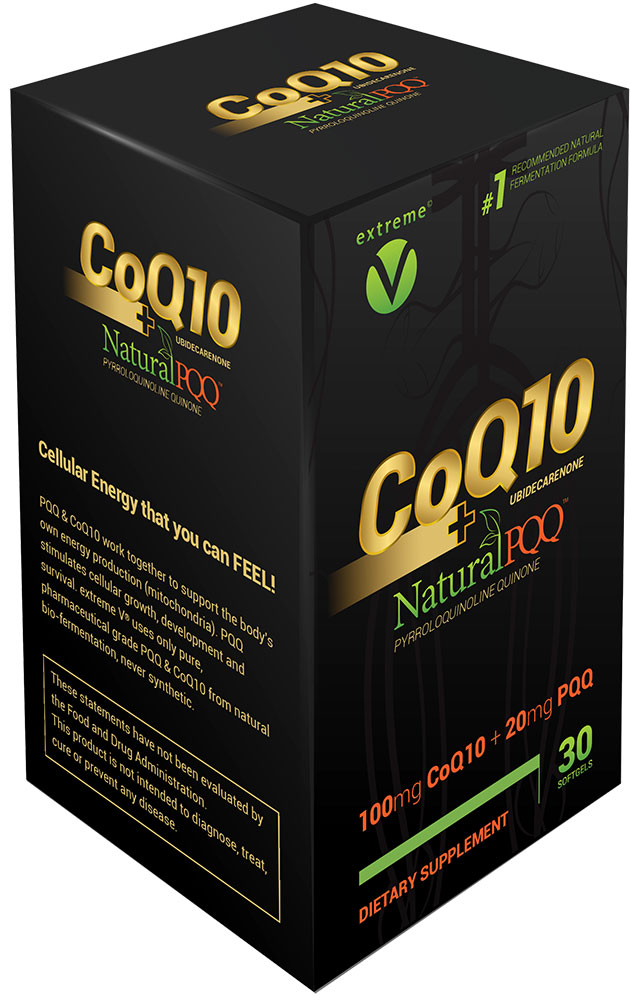 Cellular Energy that you can FEEL!
PQQ & CoQ10 work together to support the body's own energy production (mitochondria). PQQ stimulates cellular growth, development and survival. extreme V® uses only pure, pharmaceutical grade PQQ & CoQ10 from natural bio-fermentation, never synthetic.
The Dynamic Health Duo-CoQ10 & NaturalPQQ™
Research has indicated combining CoQ10 & NaturalPQQ™ together increases the health benefits of both super compounds.
Cognitive Function
PQQ combined with CoQ10 further enhances PQQ's neuroprotection, memory support, concentration, alertness and mental clarity.
Heart Health
PQQ combined with CoQ10 work synergistically to support healthy heart function and support optimum heart health.
Energy Production
PQQ combined with CoQ10 maximize the body's cellular energy production and are instrumental in activating 95% of cellular energy.
PQQ is a vitamin like compound found in plant foods. PQQ provides a wide range of health benefits to the brain and body. Research has demonstrated that combining PQQ with CoQ10 enhances the benefits of both of these ultra-antioxidants.
Distributed by: extreme V Inc.
Lewes, DE 19958
Serving Size: 1 vegetarian softgel
Servings Per Container: 30
Amount Per Serving
Coenzyme Q10 (as Ubidecarenone, Kaneka):  100mg †
Pyrroloquinoline Quinone Disodium Salt (NaturalPQQ™, Liavita):  20mg †
† Daily Value not established
Other Ingredients: Vegetarian Gel Shell (non-GMO modified starch, carrageenan, glycerin, sorbitol, purified water, natural color lycopene), Safflower Seed Oil, Yellow Beeswax, Sunflower Seed Lecithin, Rosemary Leaf Extract.
Contains soy. Does not contain sugar, artificial flavors, preservatives, sodium, gluten, dairy, lactose.
DIRECTIONS:  As a dietary supplement, take 1-2 vegetarian softgels daily. There are no restrictions on food, beverages, or activities while taking CoQ10 + NaturalPQQ™ unless otherwise directed by your physician.
WARNING:  Please consult your healthcare practitioner before taking any dietary supplement. Keep out of reach of children. Do not use if outer bottle seal is torn or damaged in any way.
STORE IN A COOL DRY PLACE – DO NOT REFRIGERATE