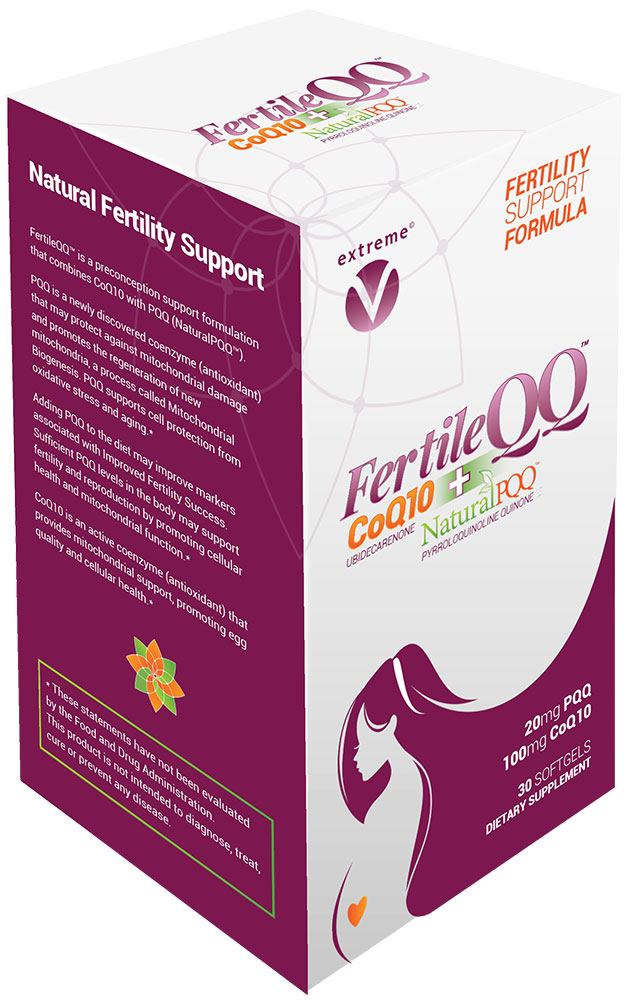 Natural Fertility Support
FertileQQ™ is a preconception support formulation that combines CoQ10 with PQQ (NaturalPQQ™).
PQQ is a newly discovered coenzyme (antioxidant) that may protect against mitochondrial damage and promotes the regeneration of new mitochondria, a process called Mitochondrial Biogenesis. PQQ supports cell protection from oxidative stress and aging.
Adding PQQ to the diet may improve markers associated with Improved Fertility Success. Sufficient PQQ levels in the body may support fertility and reproduction by promoting cellular health and mitochondrial function.
CoQ10 is an active coenzyme (antioxidant) that provides mitochondrial support, promoting egg quality and cellular health.
FertileQQ™ was created to promote female reproductive health and egg-cell quality by supporting cellular mitochondrial health.
FertileQQ™ supports mitochondria, our cell's energy centers. Mitochondria's efficiency in producing energy often decreases with age. For a woman to get pregnant, her egg cells must be released optimally with sufficient mitochondrial function. Eggs must respond to hormonal triggers of ovulation, successfully fertilize and initiate cell division to form an embryo. Healthy eggs with robust mitochondrial functioning promote ovulation and support conception.
Distributed by: extreme V Inc.
Lewes, DE 19958
Serving Size:  1 Softgel capsule
Servings Per Container:  30
Amount Per Serving
Pyrroloquinoline Quinone (NaturalPQQ™):  20mg †
Coenzyme Q10 (Ubidecarenone, Kaneka):  100mg
† Daily Value not established
Other Ingredients: Vegetarian Gel Shell (non-GMO modified starch, carrageenan, glycerin, sorbitol, purified water, natural color lycopene), Safflower Seed Oil, Yellow Beeswax, Sunflower Seed Lecithin, Rosemary Leaf Extract.
Contains soy. Does not contain sugar, artificial flavors, preservatives, sodium, gluten, dairy, lactose.
DIRECTIONS:  As a dietary supplement, take two to three softgel(s) twice daily, preferably morning and afternoon. There are no restrictions on food, beverages, or activities while taking CoQ10 + Natural PQQ™ unless otherwise directed by your physician.
WARNING:  Please consult your healthcare practitioner before taking any dietary supplement. Keep out of reach of children. Do not use if outer bottle seal is torn or damaged in any way.
STORE IN A COOL DRY PLACE – DO NOT REFRIGERATE