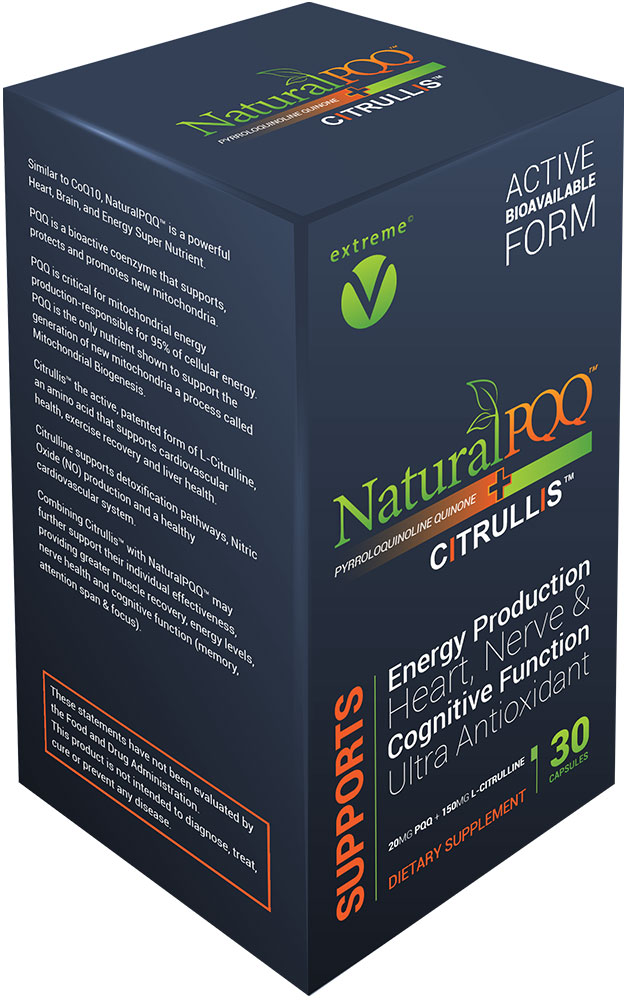 Similar to CoQ10, NaturalPQQ™ is a powerful Heart, Brain, and Energy Super Nutrient.
PQQ is a bioactive coenzyme that supports, protects and promotes new mitochondria.
PQQ is critical for mitochondrial energy production-responsible for 95% of cellular energy. PQQ is the only nutrient shown to support the generation of new mitochondria a process called Mitochondrial Biogenesis.
Citrullis™ the active, patented form of L-Citrulline, an amino acid that supports cardiovascular health, exercise recovery and liver health.
Citrulline supports detoxification pathways, Nitric Oxide (NO) production and a healthy cardiovascular system.
Combining Citrullis™ with NaturalPQQ™ may further support their individual effectiveness, providing greater muscle recovery, energy levels, nerve health and cognitive function (memory, attention span & focus).
NaturalPQQ™
Maximum Strength
Superior Absorption.
The Active Form of PQQ.
100% Natural Fermentation Production.
Supports Cognitive Function.
Supports Memory & Alertness.
Supports Attention & Concentration.
Supports Nerve Health & Function.
Supports Healthy Heart Function.
Supports Healthy Energy Levels.
Supports Restful Sleep at Night.
Citrullis™
The Active Form of L-Citrulline.
Patented, Pharmaceutical Grade L-Citrulline.
Recovery, Detoxification, Cardiovascular Support.
Distributed by: extreme V Inc.
Lewes, DE 19958
Serving Size:  1 vegetarian capsule
Servings Per Container:  30
Amount Per Serving
Pyrroloquinoline Quinone (NaturalPQQ™):  20mg †
Natural L-Citrulline (Citrullis™):  150mg
† Daily Value not established
Other Ingredients: Microcrystalline Cellulose, Silicon Dioxide, Magnesium Stearate, Vegetarian Capsule.
Does not contain soy, sugar, artificial flavors, preservatives, sodium, gluten, dairy, lactose.
DIRECTIONS: As a dietary supplement, 1-2 vegetarian extended released capsules daily. There are no restrictions on food, beverages, or activities while taking Natural PQQ™ unless otherwise directed by your physician.
WARNING: Please consult your healthcare practitioner before taking any dietary supplement. Keep out of reach of children. Do not use if outer bottle seal is torn or damaged in any way.
STORE IN A COOL DRY PLACE – DO NOT REFRIGERATE